Lesson 2. What is intergenerational learning?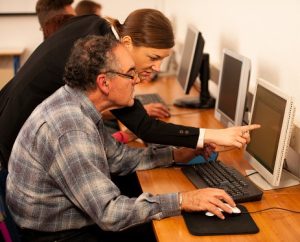 The challenges brought about by the new demographic trends force us to reflect on the need to adopt more holistic employment strategies and policies focused on the life cycle principles. This means that it is urgent to promote work environments that respect all stages of the life cycle. This notion leads us to another concept: intergenerational learning.
Intergenerational learning is simply having people from different ages learning together or learning from each other to gain skills, values and knowledge. This learning is characterised by being reciprocal and mutual, and it can happen in formal, non-formal and informal settings. In this context, reverse mentoring can be an efficient tool for knowledge-sharing, creating engagement, developing leadership and, first and foremost, building intergenerational relationships based on mutual acceptance. Intergenerational learning through mentoring and reverse mentoring practices can be a response to the challenges of a changing demographic in Europe's workforce.
Additionally, having experienced seniors engaged in entrepreneurship through mentoring and supporting younger and older entrepreneurs is a good way to extend and prolong working and active lives.
OER: The Role of Intergenerational Learning in Adult Education[1]
Best practice: The power of intergenerational mentoring[2]
[1] https://epale.ec.europa.eu/en/blog/oer-role-intergenerational-learning-adult-education