Lesson 3. Budget and financing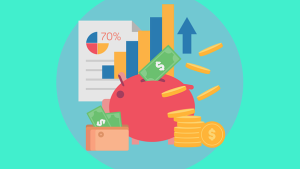 Next, you need to consider your budget and financing: (1) put financial figures on your idea; (2) convince yourself of its feasibility; (3) know if you have the money to get started; (4) pinpoint the required resources and where you might find them.
BUDGETING
a) Establishing the budget: at the beginning, you have to establish your budget (rent, furniture, office supplies, equipment…).
b) Operating budget: this gives you an overview of the company's expenses on a day-to-day basis and allows you to calculate the estimated time it may take. Its general structure is as follows: (b1) Sales / Turnover: This is the money you receive from customers. Sales taxes will not be part of the budget but considered separately; (b2) Variable costs / goods used: all expenses directly related to the sale. The more you sell, the higher the variable costs will be (e.g. if you have a shoe shop, a variable cost will be the leather to make shoes); (b3) Contribution Margin: the difference between sales and variable costs is called gross profit. It shows how much money you have left to pay for your rent, telephone, internet access, marketing and your own salary. It is important to focus on that figure.; (b4) Fixed costs: fixed costs will normally not be higher if you sell more. And they will not be lower when you sell less. The rent of the shoe shop will be the same. (b5) Amortisation / Depreciation: you invest in a new building for your business or buy a 10.000e machine. These large investments are not deducted from the accounts in the first year. The investment must be spread over several years. One way to do this is to deduct 30% of the value every year; (b6) Interest: If you borrow money from a bank, you can deduct the interest in the operating budget. Also, possible bank charges for banking transactions.
c) Cash flow budget: In order to find out how much cash you need at the end of each month you have to draw up a cash flow budget or a chronological summary of income and expenses over a certain period of time (usually a month).
FINANCING
Capital required: the formula for calculating this: indicate the total budget; add the largest cash shortfall arising from the cash flow budget. Together they will show the required capital of the enterprise.
Personal resources: the first source of finance you should turn to is yourself. Do you have money in the bank, investments, etc.?
Family and friends: they can also be a good source of funding.
Banks and savings banks: What do banks require to lend you money to finance your business venture? The best tool to obtain the necessary financing is to have a detailed business plan based on personal, established and operational budgets. To do this, you can make a cash flow budget or hire an accountant to do it for you. A cash flow budget will show how much money you will need to borrow in exact figures.
Investors: if you believe that your business is an attractive investment for potential investors you should try to approach them with your well put together business plan.
Public funding systems: all over the world different types of governments support entrepreneurs in one way or another. They may, in their efforts to promote entrepreneurship, set up financing schemes.
Supplier credit. You may be in a position where you can put pressure on your suppliers to extend three to five months of credit.