Lesson 1. What is E-Marketing?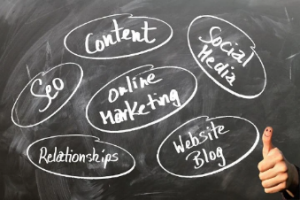 WHAT IS E-MARKETING?
While marketing is the activities a company engages in to promote the buying and selling of its products or services, E-marketing, or Digital marketing, is marketing which is specifically carried out online, through a website or a social media site, such as Facebook for example. It involves the application of e-marketing strategies which form online channels to market a company.  These strategies include social media sites, search engine optimisation, email marketing, the company website, content marketing, online brochures, and blogs. Its aim is simple and the same as traditional marketing: to attract and retain customers, thus increasing sales and profits.
BENEFITS AND CHALLENGES
E-marketing offers many advantages. A wider audience of potential consumers can be reached online than in more traditional marketing, particularly when you consider the amount of time people spend online these days. E-marketing results are measurable, accurate and provided in real time, and can be used to inform a company's strategy. E-marketing adds brand value and extends the brand – new product developments can be communicated online, as well as offers, and brand experiences. E-marketing allows for a 2-way dialogue between consumer and company through forums, live chat, and online surveys, and allows for communication between customer and potential customer through reviews posted online.
Challenges: Reviews posted online, if negative, can also be potentially damaging to a brand and are difficult to remove. E-marketing can be time-consuming to create and manage and knowledge of the different types of technologies is required. Furthermore, although some e-marketing strategies can reduce costs (social media accounts are free of charge), other options can be quite costly (search engine optimisation).
E-marketing – Latest Trends: Video clip: Digital marketing made simple – YouTube