Lesson 1. What is entrepreneurship?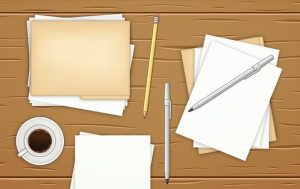 WHAT IS ENTREPRENEURSHIP?
According to the European Entrepreneurship Competence Framework (EntreComp), entrepreneurship can be described as a transversal key competence applicable by individuals and groups across all spheres of life.
EntreComp offers a comprehensive description of the knowledge, skills, and attitudes you must cover if you want to embrace an entrepreneurial career path or just to explore and expand your entrepreneur mind-set.
IDEAS & OPPORTUNITIES
RESOURCES
INTO ACTION
1.       Spotting opportunities

2.       Creativity

3.       Vision

4.       Valuing ideas

5.       Ethical and sustainable thinking

 
6.       Self-awareness and self-efficacy

7.       Motivation and perseverance

8.       Mobilising resources

9.       Financial and economic literacy

10.   Mobilising others

 
11.   Taking the initiative

12.   Planning and management

13.   Coping with uncertainty, ambiguity and risk

14.   Working with others

15.   Learning through experience

 
 
 
 
 
 
 
 
 
 
 
 
 
 
Source: EntreComp: The European Entrepreneurship Competence Framework[1]
This definition of entrepreneurship does not only mean that an individual is compelled to create a venture or a business. However, the objective of the SILVER UP course is to provide the knowledge, tools, and resources needed to create a business in the social innovation sector.
Entrepreneurship is acting upon opportunities and ideas, and transforming them into value (financial, cultural, or social). It refers to value creation in the private, public and third sectors and in any combination of the three.
DIFFERENT TYPES OF ENTREPRENEURSHIP
When it comes to description, there are at least 4 types of entrepreneurship: intrapreneurship, social entrepreneurship, green entrepreneurship and digital entrepreneurship.
Throughout your professional career, you must have covered some of the competences listed in the EntreComp. If you have done that by being employed in a company, you were (or are) an intrapreneur. Intrapreneurship refers to the practice of entrepreneurship inside an organisation. An intrapreneur is an employee who gathers all entrepreneurial skills to create value inside a company, for example by turning ideas into products or services. Intrapreneurs are self-motivated, proactive, and action-oriented individuals who also have great leadership and self-leadership skills, and for that are more likely to create their own business. They create the right entrepreneurial environment that allows companies to grow by establishing the ideal environment to work in. And this idea leads to a different concept – job crafting. Briefly, this term refers to the ability to make your workplace more entrepreneurial, i.e., when you gather all the entrepreneurship skills to harness innovation within a company.
Both presented terms – intrapreneurship and job crafting prove that being an entrepreneur, or having an entrepreneurial mindset, is not only related to starting a business or launching a start-up or a venture.
Social entrepreneurship is not something new, but the term has been gaining more attention from governments, public sectors and academia due to recent global (individual or collective) movements towards sustainable development. Briefly, social entrepreneurship refers to value creation, by individuals, groups, start-ups, companies or entrepreneurs, to tackle societal challenges. It can also include the creation of ventures or businesses that align both profit and impact. This topic will be deepened in section "Social Entrepreneurship" of the course "Outcome and Action Orientation".
Related to social entrepreneurship is green entrepreneurship which is to consciously act on environmental and societal problems and needs, whether by creating products, services and solutions (e.g., waste management) or through the design and implementation of sustainable management processes. Read and explore the following case study to learn more about how social and environmental entrepreneurship go together and can represent an opportunity for economic growth through job creation:
[1] https://iefp.eapn.pt/docs/AE1_Quadro_Europeu_competencias_digitais.pdf (last access 13/08/2021)
CASE STUDY: Tambul Leaf Plates, India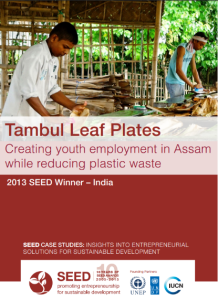 Tambul Leaf Plates, India
Tambul Leaf Plates has generated employment or additional income for 3,000 rural community members while reducing pollution from plastic and polystyrene foam plates by over 100 tonnes. The enterprise enables rural youth and women in Northeast India to establish their own production unit enterprises of areca nut leaf plates, creating livelihoods in their communities.
Link: https://seed.uno/articles/case-studies/case-study-tambul-leaf-plates
ENTREPRENEURSHIP:
Intrapreneurship
Green entrepreneurship
Digital entrepreneurship
Social entrepreneurship
Another concept worth taking note of is digital entrepreneurship that bases all entrepreneurial practices, involved in the creation or reformulation of a venture or business, on the high use of new digital technologies. For example, social media, big data analytics, mobile and cloud systems, etc. This topic will be approached in the course "Digital Tools and Resources".