Lesson 2. Effective Communication Techniques and Skills in Mentoring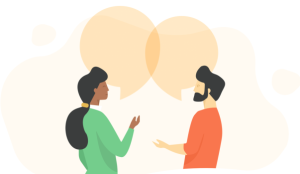 EFFECTIVE COMMUNICATION TECHNIQUES IN MENTORING
Active Listening requires giving 100% of your attention at the time of the conversation to understanding the speaker's intent and their feelings behind the words.
Reflecting back on what your mentee has said helps the mentee to feel understood and helps the mentor to double check on the understanding of what the mentee said.
Summarizing clarifies the understanding of mutual responsibilities. Restating back what was discussed with the mentee can help you do that.
Non-verbal Communication maintains the communication even when there is no speaking. Including examples of positive body language such as eye contact, open posture, nodding or pleasant facial expressions can enhance the effectiveness of one's communication skills.
EFFECTIVE COMMUNICATION SKILLS IN MENTORING
A balanced combination of two communication styles helps enhance the mentoring experience. The mentor's experience provides new information and perspective. This means that to get the most out of mentoring there must be a balance between:
the facilitative role of the mentore., the mentor listening, encouraging reflection and supporting the mentee, and
the authoritative role, where the mentor is imparting information and recommending action.
Facilitative Skills
Supporting
Eliciting
Exploring
·         Affirm their worth

·         Give good attention

·         Express your concern and care

·         Appropriate self-disclosure

·         Ask clarifying questions

·         Prompt to say more

·         Use reflective listening to help them express their feelings

Ask questions that help:

·         Generate options and possibilities

·         Evaluate the pros and cons of options or actions

·         Consider consequences of decisions before taking action
Authoritative Skills
Confronting
Informing
Guiding
·         Give feedback

·         Challenge perceptions

·         Describe how others may perceive a situation or behaviour

·         Impart information

·         Express your perception

·         Share your own experience

·         State your point of view

·         Provide background

·         Identify other resources

·         Describe possible consequences of an action

·         Suggest

·         Advise

·         Recommend