Lesson 2. Reverse mentoring as an opportunity to boost social entrepreneurship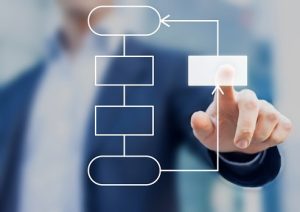 Many seniors have experience in self-employment and can remain engaged in entrepreneurship by mentoring and supporting not only their peers but also younger entrepreneurs. And why not have these younger entrepreneurs mentoring senior entrepreneurs?
The SILVER UP project aims to focus on social entrepreneurship as a specific field of entrepreneurship and as a relevant and potential field of action for senior entrepreneurship. Bringing together different generations to learn and exchange experiences (intergenerational learning) towards responding to a societal challenge can have a huge impact on developing communities and society in general.
When planning, implementing and assessing reverse mentoring you will basically have to follow the proposed methodology in the previous section. You will also have to answer some other questions to formulate your vision. For example: How could reverse mentoring (or intergenerational learning) boost entrepreneurship practices? Reverse mentoring helps close generation gaps and gives people the opportunity to see the world from different perspectives, and it supports inclusivity. Providing young people with entrepreneurship skills like leadership, decision-making, critical thinking and teamwork will create a framework to make entrepreneurship a viable path.
Take Gen-Z (or Generation Z) as an example. These individuals, born after 1995, have as a life paradigm the need to make a difference and taking action is the root of an entrepreneurship mindset. This particular trait qualifies this generation as natural entrepreneurs. This generation is highly educated and values skill development and self-improvement. They also value diversity and inclusion and are known to be prepared to make positive changes in start-up ecosystems. This generation is particularly responsive to new economic opportunities and work market trends and are the people who will create jobs that don't exist yet. Can you imagine what you could learn from the younger generation that is now leading the workforce?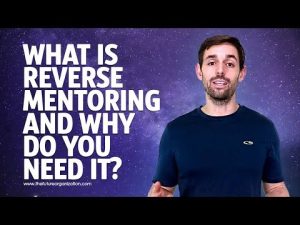 What is Reverse mentoring and why do you need it?
https://www.youtube.com/watch?v=DtzqOgteHJ0
The concept of reverse mentoring is still strongly connected to the business world and as seen in the video, it focusses on skills that one generation can pass to the other.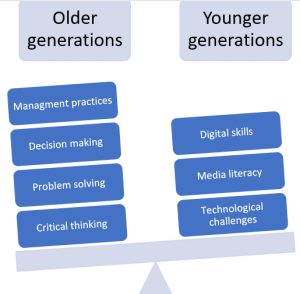 Put like that, it seems that this skills transfer is unbalanced, but the reality can go further than this. Pairing up older and younger individuals to tackle societal challenges, through mentoring practices, is nothing more than passing on skills, knowledge and values.
To start connecting all the concepts you are going to address during the Silver UP training, and understand why mentoring plays an important role in promoting social entrepreneurship, take a look at the following inclusive business practices that can be capitalised on if you are thinking of creating a social business.
Case study 1: Sonae MC Reverse mentoring programme[1]
Case study 2: Sonae Arauco Knowledge Academy (SAKA)[2]
[1] https://embracedifference.ert.eu/case-studies/creating-learning-opportunities-by-taking-advantage-of-our-age-diverse-workforce/
[2] https://embracedifference.ert.eu/case-studies/ensuring-sustainable-knowledge-management-through-an-age-inclusive-approach/