Lesson 3. Conflict Management Strategies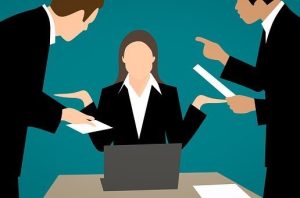 Although conflict is a natural part of the mentoring relationship and workplaces, it can lead to mental health issues and lost productivity and motivation. In contrast, conflict can be also a motivator that generates new and creative ideas and innovation, if it is effectively managed.
A critical competency for today's working professional is to understand we each have our own way of dealing with conflict. According to Thomas and Kilmann Conflict Management there are 5 major styles of conflict management—collaborating, competing, avoiding, accommodating, and compromising.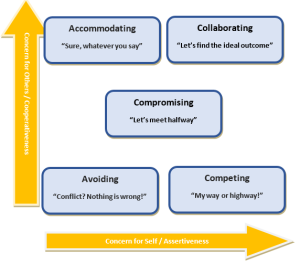 Accommodating: Accommodating is a highly cooperative yet rather unassertiveconflict management style. If genuine, it can lead to harmony and avoid unnecessary competition.
Collaborating: Collaborating involves both parties thinking beyond their current ideas and finding creative ways to solve a conflict. It is when both sides can fully consider the concerns of each other while not sacrificing their own.
Compromising: A compromise is often a 'good enough' solution and can provide 'an easy way out' when both sides sacrifice equally.
Avoiding:  This style is common for those that see conflict as bad, do not like confrontation, simply want to keep the peace, or those that do not feel confident enough to use the other styles.
Competing: This style is often a very controlling style of solving conflicts that only benefits one's own goals. It can involve hostile communication and lead to counterproductive results where people feel manipulated or mistrusting.